With the unknown all around us, it can be easy to take certain things for granted as we struggle to find normalcy and balance. We have been fortunate as a company to weather this storm, and as such we decided it is our duty and privilege to give back to our community. Instead of our previous system of doing an annual community outreach program, we launched an initiative to get involved each quarter with a different charitable or non-profit organization that aligns with our core values. This quarter we decided to organize our 1st Annual Food Drive for the local non-profit Loaves & Fishes.
Loaves & Fishes traditionally provides a week's worth of nutritionally balanced groceries to individuals and families experiencing a short-term crisis through a network of 41 emergency food pantries located throughout Mecklenburg county North Carolina, but because of the Covid-19 crisis they needed to adapt. They currently are providing mobile "drive-through" style food distribution while they are unable to operate their food pantries. In addition to this change, they also increased providing groceries to 80,232 people in 2019 to over 120,200 people in 2020. The volume of donations needed for this upcoming holiday season has risen, and because we share the value that access to nutritious food is a fundamental human right, we took action.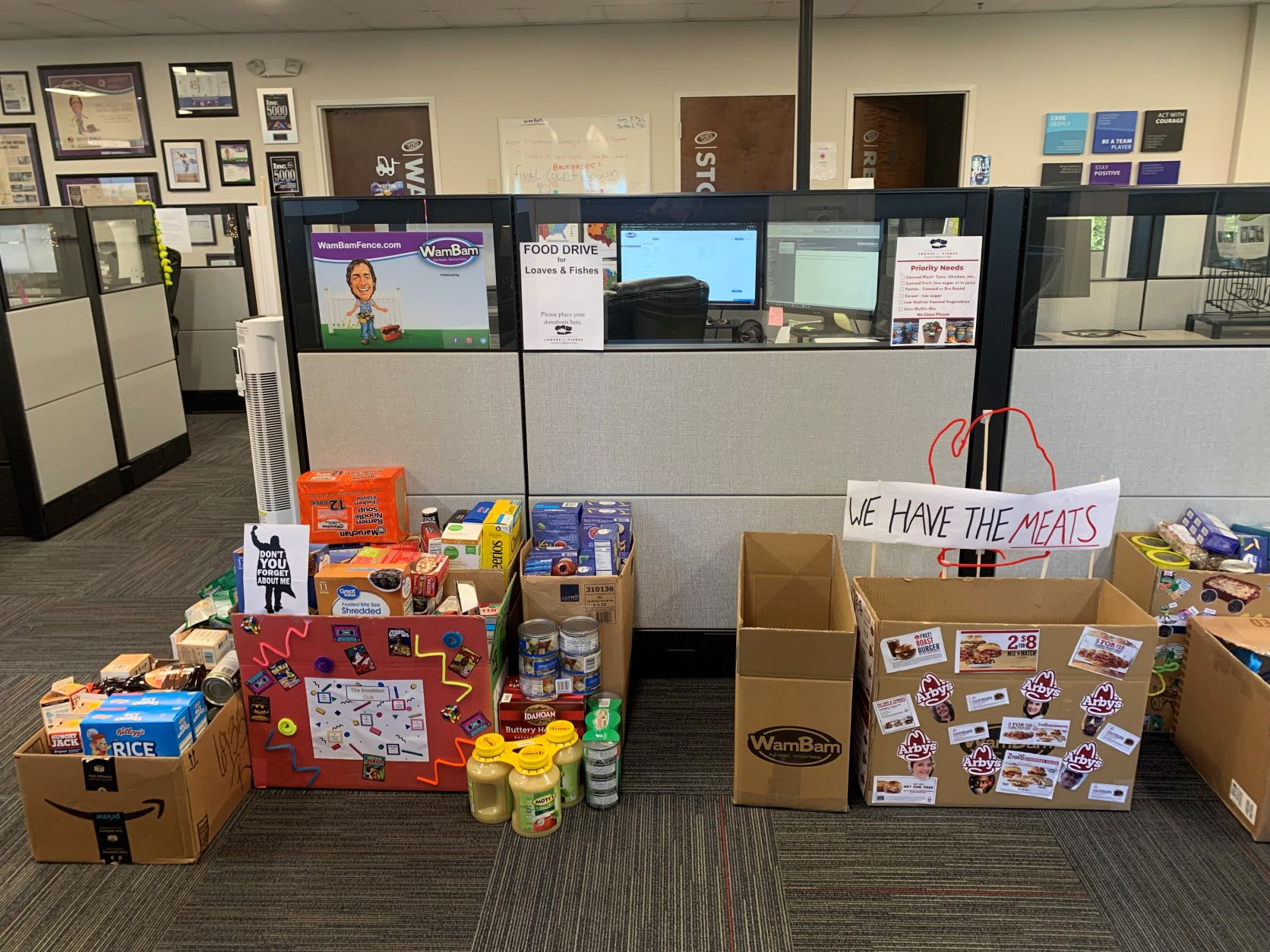 The WamBam fam likes a little friendly competition, so we decided to raise the stakes and create teams to see which group could bring in the most shelf-stable food items to donate. This food drive brought us all together (when we weren't debating who designed the best donation boxes) by reminding us how helpful we can be when we work towards a common goal. In tough times, it can be easy to forget the power we have to lighten someone's burden. But after two weeks, we had collected a total of 718 items- weighing in at 645 pounds! We like to quantify things as much as possible around here, which means we also know that weight is roughly that of a grizzly bear. That is a lot of non-perishable food!

This food drive reinforced our core values of Care Deeply, Be a Team Player, and Stay Positive; it took each and every one of us to come together and do our part to make our community a better place. We hope this helps inspire you to give back if you find yourself in a position to do so. And if you aren't currently in that position, know there are people all around who want to see you back on your feet and to help in any way they can. As Mr. Rogers said, "Look for the helpers. You will always find people who are helping."