"We are proud to be launching a new line of no-dig fence available through resellers."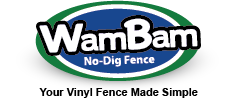 Over the past few years, we have seen growing enthusiasm for no-dig fence. Our customers generally love our no-dig fence as proven by our rave reviews, and to date our website wambamfence.com has been the only place to get a complete no-dig fence kit designed for the DIY consumer. That is all about to change with us launching a new line of no-dig fence available through resellers.
The Evolution of No-Dig Fence
Initially we launched WamBam's original no-dig fence line through online resellers like Home Depot, Sam's Club and BJ's Wholesale club. Despite good sales, we had a problem. Our no-dig fence was simply too complicated to sell through online retailers. Everything was sold a la cart, and customers were forgetting to order caps or posts or no-dig pipe anchors. Communicating this information was very difficult through these online platforms, and with their customer service representatives handling hundreds of thousands of skus, it was impossible to expect them to be knowledgeable on our no-dig fence. We had to pull back. We ultimately decided to sell our no-dig fence direct, because we wanted to learn how to better sell no-dig fence to the end consumer. By selling direct, we were able to hold customer's hands, quote them on their fences, ensure they had what they needed and easily provide technical support. We have always tried to operate by answering the question, "What's best for the customer?" and the answer to this question was clear to us regarding our decision to sell our WamBam Fence direct.
We also promised our resellers that we would take what we learned about no-dig fence to come up with a simplified program for resellers. Our first step was to learn how to sell general fence through online resellers in a way that is simple and easy to understand for the consumer. As a result, we introduced a pared down line of traditionally installed fence that is sold with 1 panel, 1 post, and 1 cap in a box. We brought this line (dubbed WamBam Traditional) to market in 2012 and the program has been very successful. With it's success, we have also seen growing requests for a similar no-dig version.
Why No-Dig Through Resellers?
We love our No-Dig WamBam Fence, but we saw the opportunities for some improvement to the levelling donuts and a few other technical parts of the product. We created a new and improved version of our no-dig anchor kits and packaged products like our WamBam Traditional product- 1 panel, post, cap and mounting system in a box. It's important for us to be able to partner with retailers for a few reasons. For one, resellers like Amazon.com and Homedepot.com offer free shipping, and this is something we can't compete with on a couple panels of fence. By leveraging the logistics of these powerhouse resellers, customers can purchase smaller fence jobs with less shipping expense- and in many cases free shipping. Transit times can also be decreased to the west coast as well, as some of these dot com retailers stock our products in their warehouses.
Styles Available
At this time we are only offering 2 styles- picket and yard & pool, both 4ft high. We have plans for some 3ft no-dig picket fence and also hope to introduce privacy fence to this line as well.
How is it Different from WamBam's Current No-Dig Fencing?
While this new no-dig fence line is still professional grade vinyl with a limited lifetime warranty, there are a few key differences other than different styles. The new no-dig line sold through resellers has the following differences:
[table id=1 /]
We are excited about this new line of fence, and invite you to call us at 877-778-5733 if you have any questions. To see the products on our website, click the links below: