Will and his wife Nancy recently adopted 4 puppies and needed a fence. They opted for our vinyl picket fence and this is what Will had to say:
"The fence project went very well. I did most of the project myself (my wife was out of town the first weekend but was able to help me on Saturday of the final weekend with the finishing touches). I only hit one underground obstacle (a root that was only 8 inches down that I had to chop out with an axe).
I only made a couple of small mistakes and no one but me even notices them. I had to get a little creative in a few spots. The fence is very versatile, and I was able to figure out how to make it work to solve the problem areas I ran into. I almost called for advice a couple of times, but figured it out without needing to call.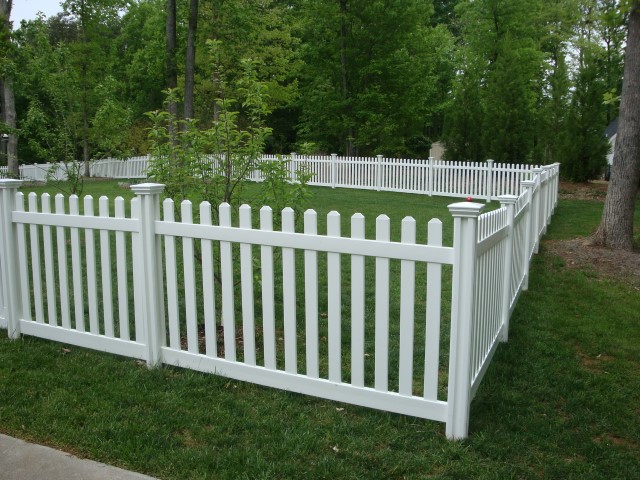 The fence lines came out very straight. I've included a few pictures (including the reasons for the fence – yes there are 4 of them). I chose to angle the fence up and down the slopes rather than step the fence so that the dogs would not be able to escape under the fence.
The woman in the picture is my wife, Nancy. She is the one who bought the dogs and then decided we needed a fence to keep them in. She is also the one who found your website and decided that your fence system would make a great addition to my "honey do" list.
The dogs are Maggie and Molly (the blonde French twins with the long legs), Max (the red labradoodle) and Chip – short for Chocolate Chip (the chocolate Australian labradoodle). They are all about 12 weeks old and full of energy. Quite a handful. It is a lot easier now that the fence is installed…"
This was a big vinyl fencing project and Will nailed it!