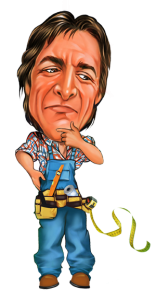 "What?! We've already blown through all that product just in the past week? Oh man, we're screwed. Lights out until July at WamBam Fence."
This is what Steve proclaimed after a recent conversation about inventory issues that seemingly have come out of nowhere. While he is being dramatic, the truth still remains: We are back-ordered on certain models of fence. And we don't like it one bit.
We didn't know how to project sales this spring because we had no history of product sales. While we thought we beefed up inventory enough to have lots of product (and figured we erred on the side of too much as opposed to too little), we didn't expect it to go quite like this. We've ordered more containers, but since they come from overseas, they are going to take 6-8 weeks to get to us. We do have another container coming into our warehouse on Monday, but a chunk of the material has already been spoken for and will be shipped out the door as fast as it was shipped in.
People tell us that this is a good problem, and sure, we'd rather be dealing with these headaches than lack of sales. Still, it's a tough spot for us to be in.
We're working through this, and we just ask our customers to be patient with us. We still want to provide you with a WamBam Fence, and hope you can bear with us while we navigate these growing pains.  We will have product by the third week of June if everything goes perfectly. However, things don't usually go perfectly, so we're saying July 15 to be on the safe side. If you still want a back-ordered item, email us or call us and we'll put you on the waiting list. We're working on a "first come, first serve" basis.