Entrepreneur Of The Year celebrates ambitious entrepreneurs who are building a better world
Charlotte, NC June 27, 2023 — Ernst & Young LLP (EY US) announced that co-founder and CEO Denise Shields of Charlotte-based Nych Brands was named Entrepreneur Of The Year® 2023 for the Southeast. The Entrepreneur Of The Year Awards program is one of the preeminent competitive awards for entrepreneurs and leaders of high-growth companies. Shields was selected from a field of over 80 entrepreneurs in the Southeast by an independent judging panel made up of previous award winners, leading CEOs, investors and other regional business leaders. The candidates were evaluated based on their demonstration of building long-term value through entrepreneurial spirit, purpose, growth and impact, among other core contributions and attributes.
The award winners were unveiled during the Southeast Awards Celebration on June 22, 2023 in Atlanta. As an award winner, Shields will next be considered by the National judges for the Entrepreneur Of The Year National Awards, which will be presented in November at the annual Strategic Growth Forum®, one of the nation's most prestigious gatherings of high-growth, market-leading companies.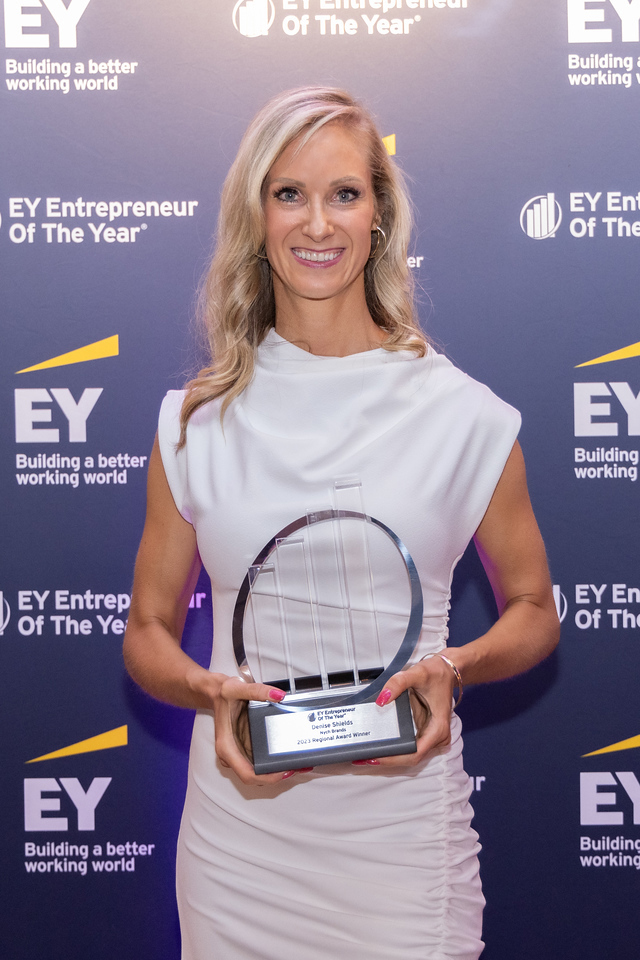 "There were so many years of grinding it out, making sacrifices and wondering if things would ever take off," said Shields. "This award is so meaningful because it recognizes all the blood, sweat and tears of the past 13 years." An industry leader in outdoor solutions, Nych Brands has grown from a company of 5 employees to 40 employees under Shields' leadership over the last 7 years. "This is the result of a collective team effort of hard work and caring deeply, of staying positive through failures and acting with courage," stated Shields. "We are just getting started and I'm so excited to see what Nych will accomplish in the next 5, 10, and 15 years."
About Nych Brands
Founded in 2009, Nych Brands offers solutions to common backyard problems. The company does this through three different brands, WamBam Fence, Zippity Outdoor Products, and Enclo Privacy Screens, that offer unique product lines focused on serving a specific customer's needs. To learn more about Nych Brands' origin story click here or visit NychBrands.com.
About Entrepreneur Of The Year®
Entrepreneur Of The Year® is the world's most prestigious business awards program for unstoppable entrepreneurs. These visionary leaders deliver innovation, growth and prosperity that transform our world. The program engages entrepreneurs with insights and experiences that foster growth. It connects them with their peers to strengthen entrepreneurship around the world. Entrepreneur Of The Year is the first and only truly global awards program of its kind. It celebrates entrepreneurs through regional and national awards programs in more than 145 cities in over 60 countries. National Overall Award winners go on to compete for the World Entrepreneur Of The Year® title. Visit ey.com/us/eoy.
Contact:
Donnie Smith
Nych Brands
Donnie.Smith@nychbrands.com