We're excited to launch a new line of product: WamBam Traditional.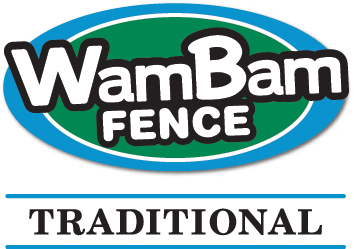 This new line is installed the traditional way- by digging holes and pouring concrete. For a company that's so big on digless fence, you may be wondering why we're offering a traditionally installed line that is not "Fence that's fun to install" as our digless fence tagline so proudly declares.
Like the beginning of everything, it starts with a story.
We're proud of our relationship with Tier 1 retailers such as HomeDepot.com. These are great companies that we are honored to partner with to sell our product. When we launched our original WamBam digless fence line, we charged ahead with these name brand accounts, and flooded them with 54 different items. The more the merrier, right?
Wrong.
Unlike selling widgets online, our digless vinyl and aluminum fence systems require some education for the end consumer to understand. It also requires a great deal of components to do a complete project- from posts to panels to gates to caps to anchor kits. Trying to force a project-based product into their systems resulted in problems. It was difficult to properly educate their customers on digless fence. Customers weren't sure why they needed digless anchor kits, or worse, weren't aware that posts needed to be ordered separately and simply didn't order them. The project-based product–combined with the unique digless installation method–resulted in an abnormal amount of uneducated and frustrated customers who weren't able to simply order a digless fence correctly online.
So we needed to simplify. That was the goal. Our current program was a little like fitting a round peg in a square hole in their dot com platforms, and as a result, it was clunky and cumbersome for the average user browsing www.homedepot.com for vinyl fencing to simply order our fence (and any fence, for that matter!) online.
So we axed all the items, and re-birthed just a couple of our best sellers with some major changes. The panels come in a one-box unit that also include a post and a post cap. The install method is traditional so customers don't have to wonder what the heck an anchor is and why they need to order it. These changes made it simple for our resellers to merchandise online, which in turn will make it easier for the end customer to order and understand.
Don't get us wrong- we are still just as passionate as ever about WamBam digless fence. It's a game changer, and people love it. Soon you'll see an upgrade on our site making it easier to purchase all the components required for your digless fence. Plus, we love the fact that we can talk to our customers and ask them questions. Qualifying customers helps us ensure that we are a good fit and that they will have a great experience. However, in the world of major dot com retailers, we feel that the new WamBam Traditional line is much better suited for them because of its simplicity.
The new line is now available on www.homedepot.com and soon will be on other name brand websites you know and trust. Below are product video demos for the new line which will be found on these sites. You can throw some virtual tomatoes at Denise!