Determining how much material you need for your fence project can be daunting/overwhelming/confusing.  That's why WamBam has a friendly team of dedicated Project Consultants to help.
We only want you purchasing what you need to successfully complete your project.  No more.  No less.  Too much material will likely result in costly returns for you, and not enough material will likely result in needing to purchase more material with expensive shipping costs (not to mention longer install time until project completion).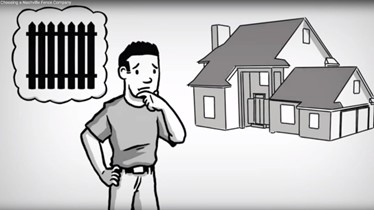 The easiest way for us to quickly and accurately quote your project is for you to provide us with a sketch.  We see all kinds of sketches from customers!  Some are good and some are … well, let's just say, not as good.  (You should see our collection of "Best Worst Sketches" … some customers really crack us up!)
Most of the time, any sketch is better than no sketch.  Sketches help us understand what your project entails and how we can best quote you.  Sometimes customers need specialty items such as surface mounts, angle helper kits, swivel brackets, and more.  A sketch will help ensure we give you what you need for a successful install and also help us point out any helpful tips or areas of concern we see.
Ok, I get it!  You really want a sketch.  How can I supply a "good" sketch?
You don't need to be a graphic artist or use architecture software to get us what we need.  A good sketch will contain the following information:
A basic drawing of your property and how you want your fence to be installed.  Pretend you are a bird flying over your house looking down.
Linear footage length of all your fence runs.  You'll probably get a call or email from us if you don't provide this!
Gate locations and widths.  Indicate double gates if necessary.  Gate quantity and locations can make a big difference in your material/price totals.
Any information such as drastic slope, posts mounting to concrete, different styles of fence desired (do you need both privacy and picket in your project?)
Some examples of "good" sketches:
Some examples of "less than helpful" sketches:
Wait, that survey map of my property is no good?
Survey or zoning maps are only helpful to us IF you draw how you want your fence to go with linear footage and gate locations.  But with all the other info on that sheet, most of which is of no use to us, it can get confusing and cluttered very quickly.   We prefer hand drawn sketches, honestly.  They're easy for you and us.
How do I know what my linear footage is?
Well, you need to measure.  Use a tape measure or measuring wheel and walk your property where you want to install fence.  Indicate those run lengths on your sketch.  Remember, we need linear footage for each run of fence you want to install (not square footage for your entire backyard).
Our dedicated team of Project Consultants is here to help you through every step of the quoting and ordering process.  It's all we do!  Request a free no-obligation quote HERE and let us help you get your fence project started!